AMWAY or GOD'S WAY

The multi-level marketing business called Amway was founded by two roommates in a Michigan basement in 1959. They started with a single soap product and it grew into a company worth over $4.5 billion-a-year. 11,000 workers are employed across 50 countries in the world. And it has become a successful world - wide business.

While there is nothing inherently wrong with a Multi Level Marketing business, but there are some aspects of Amway that do become a concern, especially for Christians.

The corporation makes the disclaimer that it is a business and does not endorse a particular religion, however there is an apparent Christian emphasis with many of its leading "independent" distributors. Many Christians have become involved in the selling of the products and are reading books that use Christian terminology. Amway's business is known for its high-powered sales techniques. Certain distributors have combined their business with evangelization with the intent of reaching people for Christ. This is something Amway does not endorse but has allowed to the individual. This can happen at certain Amway meetings depending on who is running it and who is their target audience.

Amway's persuasion for success is that you do you not want to be owned by business, or be an employee the rest of your life. You want to have freedom to spend time with your family and personal pursuits. What they don't often tell the newcomer is that the required investment in the business takes a great amount of time (and investment) for any substantial results. This can bring even further strain on families that are already lacking time together. People want results for their time but they don't often understand that it can take more time and effort to build their own business. Many have quit before seeing the results because they have not materialized as quickly as they thought (or were told). Others have stuck it out and have become successful, some very successful.

Who are the people who join? They range from the formerly well educated to the non-educated, Doctors, Nurses, College graduates, to those who want to see the potential of a home business. Many have achieved a certain level of success that they state is satisfying for the lifestyle they want to live.

They claim everyone wants their products. Everyone is in need of some kind of product or service. You appeal is to certain businesses, friends and families. Great bargains offered in the Amway package attract those searching for a new business. Many do not know that today the huge shopping centers give a good a bargain equal to Amway. The exception is, you're not the middle - man the store is.

It is not my intent to delve into all the pros and cons of the MLM plans. What I do want to address is its use of Christianity and its authors.

Many "Christian' Amway distributors concentrate their recruiting among non -believers. They attract them into the business by first appealing to their want for financial success. Then they will invite them to a meeting where the gospel will be given. This is somewhat deceptive in its means. So often I hear people say they are involved so others can hear the gospel, but this is not presented clearly at first. Then there are Christians who want to get other Christians involved. I have also seen first hand the abandoning of Sunday Church service for attending Amway meetings. One would wonder if they are pro Christian or family why they would schedule a meeting on this day. The opposite also occurs, where many in the Church become involved and it becomes a Amway fellowship. This can especially occur in the Word/ Faith Churches more often because of their inclination to the same type of books. It is this activity that I specifically want to address.

Amway distributors become teachers, trainers and sponsors of those they recruit. While this may seem to be a good opportunity to present Christian principles in a discipleship format, the training materials, particularly the reading lists given out promote a dangerous mixture of positive mental attitude (PMA) with a "Christianized" veneer. Those who make an honest commitment to Christ can often become involved with PMA positive-confession beliefs. The system by default encourages people to be more materialistic; which is not so surprising from the books and material they promote. The book reading list includes; Charles Capps "The Tongue: A Creative Force," such authors as Napoleon Hill's "Think and Grow Rich," as well as works of PMA theologians Norman Vincent Peale (Positive Thinking) and Robert Schuller (Possibility Thinking). Motivational speaker Zig Zigler and many others are part of this list. Amway as a business does not endorse all these books but they are recommended by many of the Christian distributors.

Terms such as "speaking it into existence" and "get what you speak" are used by these authors and encouraged by others in Amway. Visualization techniques, such as thinking of a particular goal or item (such as a car or new house), or a specific amount of money, are also encouraged. The new down-line are encouraged to paste pictures of their desire on their refrigerator, bathroom mirrors, etc. They are also instructed to paste quotes from the different authors on the reading list in different places, and repeat these "success" and "positive thinking" quotes just as the author recommends.

Lets look some authors not so well known as the former ones mentioned to see what is being handed out to people for reading. They hand out your new beginning step 2 to those who just got saved that certainly does not clarify things but muddies the waters. While he does have some good things to say this is outweighed by the underlying theme he promotes. Since this article is not to be a pat on the back but to bring to light what they are teaching the new converts....Your New Beginning STEP 2 Dr. Willie Malone.

This is how he interprets "Romans 8:14-17 Notice that you are a son of God. You are a child of God and therefore are an heir of God and a 'joint-heir with Jesus Christ. That means that everything in the Kingdom of God belongs to you too. Everything that God has, you have a legal claim to. He desires to give you His blessings. He wants you to have your rightful inheritance. Jesus Christ went to the cross and suffered so that you would not have to suffer. He bore the stripes on His back for your healing. The chastisement of your peace was upon Him. (Isa. 53:5.) He became poor that you might become rich". (2 Cor. 8:9) (p.12).

Really! This is typical word/faith teaching. And what of Rom. 8:17-18: "and if children, then heirs-- heirs of God and joint heirs with Christ, if indeed we suffer with Him, that we may also be glorified together. For I consider that the sufferings of this present time are not worthy to be compared with the glory which shall be revealed in us."

1 Pet. 4:12-16: "Beloved, do not think it strange concerning the fiery trial which is to try you, as though some strange thing happened to you; but rejoice to the extent that you partake of Christ's sufferings, " Phil.3:10 and numerous other scriptures make it plain.

In Heb. 11 we find the men of the real faith who are mentioned in the Bible. They all shared one thing in common, suffering. Anyone who tells you differently, that God is going to make it all be pleasant and relieve you of any pain is lying. That's not what the Bible teaches but what man teaches.

This is how a new born in Christ is welcomed "As a matter of fact, you can look at what has happened to you like this: GOD HAS JUST SPONSORED YOU INTO HIS BUSINESS. YOU ARE A PARTNER WITH GOD. HE IS YOUR MAIN UPLINE. LEARN TO LISTEN TO HIM. TAKE HIS ADVICE. DO WHAT HE SAYS TO DO. YOUR FUTURE IS BRIGHTER TODAY THAN IT EVER HAS BEEN BEFORE" (p.13).

He launches into a full blown hyper faith interpretation of Scripture "Another common mistake is praying "if it be Thy will." We are going to shed some light on these areas and you will be amazed at the results you see when you pray correctly. After all, didn't James say that you ask but do not receive because you ask incorrectly? Let's turn that around from the negative to the positive: YOU ASK, AND RECEIVE, BECAUSE YOU ASK CORRECTLY. Now let's learn to ask correctly."

Unfortunately he left out what James mentions as incorrectly, but goes to all the passages taking them outside the greater context of Scripture. James says "You ask and do not receive, because you ask amiss, that you may spend it on your pleasures. Adulterers and adulteresses! Do you not know that friendship with the world is enmity with God? Whoever therefore wants to be a friend of the world makes himself an enemy of God." Many today demand and command using New Age type decreeing, thinking they are releasing faith. James is not saying write your own ticket with God but the opposite.

He then quotes "And in that day ye shall ask me nothing. Verily, verily, I say unto you, WHATSOEVER YE SHALL ASK THE FATHER IN MY NAME, HE WILL GIVE IT YOU...Hitherto have ye asked nothing IN MY NAME: ask, and ye shall receive, that your joy may be full."

Yet the Scripture says Lam. 3:37-38 "Who is he who speaks and it comes to pass, when the Lord has not commanded it? Is it not from the mouth of the Most High that woe and well-being proceed?"

He continues John 16:23-24 So I suggest that you begin your next prayer in this fashion: "Father, in the Name of Jesus ... You must know that Jesus is our only approach to the Father. He is our Intercessor, our Mediator, our Power of Attorney. Jesus gave us the right to use His Name. In Matthew 28:18 He said: All power is given unto me in heaven and in earth. And then He turned around and gave that power to the believer" (p.21-22).

I have never found the scripture that so many point to about all power is in our hands, maybe you can help me on this? I Jn. 5:14-15 "Now this is the confidence that we have in Him, that if we ask anything according to His will, He hears us. This is why Paul prays Col. 1:9-10 do not cease to pray for you, and to ask that you may be filled with the knowledge of His will in all wisdom and spiritual understanding"

Here's more wonderful words he teaches for the new one in Christ, "Matthew 18:18 The wicked spirits against which we operate are controlled when we bind them. When you go into a place and begin to feel unrestful in your spirit, begin to bind Satan immediately: "SATAN, I BIND YOU FROM THIS PLACE AND I RENDER YOU HELPLESS. I CANCEL YOUR POWER IN THIS PLACE. IN THE NAME OF JESUS, I PROCLAIM YOU DEAF AND DUMB AND YOU HAVE NO AUTHORITY HERE. YOU ARE BOUND IN THE NAME OF JESUS."

Hey if he can make Satan deaf and dumb who keeps having him speak again! It must be the same one who keeps unbinding him from the pit.

"Your words can change your life. Power is released through your mouth. How many times have you said something like this? "Every time I wash my car it rains!" Or: "Why does everything always happen to me?" Or: "It's no use, I'll never make it!" (p.52)

What power these men have its a wonder that they need to even write a book. This is all from a pastor!

Ps.12 says "May the LORD cut off all flattering lips, and the tongue that speaks proud things,"4 Who have said, "With our tongue we will prevail; our lips are our own; who is lord over us?" The tongue can affect another's emotions to a certain extent (if they allow it) but to say it has power over nature, lets get real!

R. C. Allen whose book intention is to help you succeed by knowing the universal mind is also far from the truth. The book THE SECRET OF SUCCESS by R. C. ALLEN, internationally known author of the "immortal words of Jesus Christ While Jesus is mentioned he's not put in the proper place. He starts off the book with premise of everyone possessing the creative spirit, the universal mind.

"this awakening and a belief in a power greater than themselves became the starting point in man's supremacy over his fate and his destiny.

Ever since man first realized this power existed, he began to evolve faster and more easily. His spirit rose ever higher from savagery towards the beautiful anti perfect soul for which man has always been intended. Certain enlightened individuals found that, whatever they could visualize or imagine, could be transformed into reality with the help of this Infinite Wisdom and Power." Good men, however, like Moses. Confucius, Buddha, Mohammed, Gandhi and especially, Christ, created good things. And the spiritual legacy they give to the world enables other men to build a better civilization based on the moral values they were given"(p.12 ).

He writes" They found that, whatever they thought about they could They also found that, by directing their thoughts, they could affect the people and things around them. Evil men found they could create evil things. Power hungry men, like the Pharaohs of Egypt. Genghis Khan, Napoleon and Hitler, took over the leadership of their countries and attempted to create the impression that they and their group were more important that' God. But their power structures lacked the proper foundation....It is logical, then, to believe that 'here is an Infinite mind-a Creative Source of wisdom and intelligence that uses your brain as an instrument or charnel. It activates your brain and gives you the ability to think and the potential to "accomplish all thing." (pp.12-13).

This only the beginning of a book that I find teaches mind science and has nothing to do with historic Christianity. This is like "the force be with you Luke." This power that can be used for good or evil is more science fiction than Bible.

"That is why it is so easy to believe there is an efficient, powerful, all-knowing and ever-present Creative Spirit and Infinite Intelligence that directs and controls every tiny atom in the entire Universe. This ever-present source of wisdom and power is the Secret of Success-your Super-Conscious (Creative) Mind. It is "The Kingdom of Heaven," Christ said, "is within." It is so dependable that, with its help and guidance, you can more easily secure all of the peace of mind, money and happiness you will ever need or want."

Too Bad the apostle Paul who wrote the major portion of the New Testament did not know this.

2 Cor. 6:10 "as sorrowful, yet always rejoicing; as poor, yet making many rich; as having nothing, and yet possessing all things" (spiritual riches not material ones).

1 Cor. 4:11-12 "To the present hour we both hunger and thirst, and we are poorly clothed, and beaten, and homeless."

Here he explains what this all is "By the time you finish this book, you will know and understand why your Super-Conscious Mind is everything. In fact, there is no limit to what your Super-Conscious Mind can do to help you once you know how to use it.

Through the nerves and cells that comprise your brain, this Creative Source of Power causes your conscious mind to think and work on every idea you are given so that you can encourage others and help them perfect every material thing within the entire Universe.

This Creative' Source of Power-is known by many names-God, Divine Mind,, Super-Conscious Mind, infinite Mind, Creative Spirit,-Super- intellige6nce, Universal Mind, 'etc....- Those names shall be used interchangeably throughout this book, but no matter how you say them, they are all one and the same" (p.14).

"The more often you "Seek first the Kingdom of God"' and turn 'to Secret of Success for guidance, the more certain your success will be." (p.15)

"People who understand the Secret of Success know that "the Kingdom of Heaven is within". By relaxing and listening, carefully to their Super-Conscious Mind, they feel confident they will receive the right answer and their difficulties can then be overcome more easily" (pp.18-19).

The author implies everyone has this mind, which he has stated is God within. He is so convinced that anyone's success can be traced to this that he made a list here are only a few of the names Confucius, Joan of Arc, Buddha, Brigham Young, Mohammed, Mary Baker Eddy, Myrtle and Charles Fillmore, Paramahansa Yogananda, Emmet Fox."

This reads like who's who in the cults and false religions. What a lineup, did he forget anyone? Of course he did mention the apostles which when looked at would never agree with his theory nor what any of these other false teachers wrote. Some of these mentioned didn't even believe in God yet he claims they tapped into him, or it.

"...when you turn your mind away from this Secret of Success, you allow the contact to be broken and you are unable to receive the full amount of power and help. It is so willing and able to give. You are, in effect, saying, 'My will, not Thy will, be done."

Unfortunately Peter did not have this ability Acts 3:6 Then Peter said, "Silver and gold I do not have, but what I do have I give you: In the name of Jesus Christ of Nazareth, rise up and walk."

Yet he states "As you become more conscious of the Truth and understand more clearly how your Super-Conscious Mind works, you will realize how close you are to this Universal Power. Instead of thinking of this Infinite Source of Power as being somewhere "far off" "above," or unavailable you will, instead feel It and know It to exist nowhere else but deep within your own mind" (p.27)

"The truth is you have a marvelous creative Spirit and wonder working power within you…with this infinite source of ALL WISDOM and POWER-WHICH IS GOD-you superconscious mind,… (p.28)

The Truth is-you are never separated from the Infinite Spirit of God even for as long as a single breath"(p.67)

"Second-you have a Super-Conscious Mind. This is the all-wise, indestructible, never-failing, creative Infinite Mind which is the God-part of you Christ referred to when He said The Father within me, He doeth the works." (p.65)

Nonsense, this is new age occultism. This not a book any Christian should read nor apply its principles.

The God part is not everyone's mind as claimed.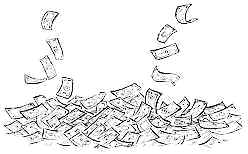 ""Suppose that a radio station were to announce your name and say that you were entitled to a prize of $10,000. To win, all you needed to do was tune in the station and hear your name announced. If your radio was not tuned to that station, you would never receive that prize no matter how many times they announced it...More are being offered every minute of the day. They are yours for the asking----'no strings attached." The only requirement is-you must be tuned in and receptive. Here is how you can tune in the Infinite Mind and receive all the good things It has to offer" (p.78).
"Flowers, trees, birds and animals all have this faith. They also know how to relax. And, as Christ pointed out, "Are ye not much better than they. Their faith allows them to grow, produce and reproduce."
Flowers and trees and birds have faith? This is not the Bibles definition. His faith is a universal mind that permeates everything, the Bibles is a willful trust in God. This is clearly Mind Science not Christianity, but the question is do Amway distributors know the difference? It is amazing what can slip under the guise of Christianity.
He also explains how to meditate "Then place your thumbs on your temple and the fingers of each hand in the center of your forehead and say to yourself-"peace." Hold your fingers there and repeat the word "peace" several times every few seconds. When you feel completely relaxed and at ease, then place the tips of your ten fingers together and either put your hands loosely in your lap or place them in front of your chest. The wise men of every age have found that this prevents the spiritual energy within your body from escaping. It keeps this energy circulating within your body and enables you to increase your inner power so that you can more easily "tune in" the broadcasting station which is God. Then shut your eyes and allow your mind to turn inward-not outward. Christ said, "The Father within me He doeth the work." There is a gland in the center of your brain called the pineal gland. Ancient philosophers called it "the third eye," and "the all-seeing eye" (p.85).
This is pure occultism and Amway should be ashamed that they hand out books like these to Christians and use Christian terms to have Christians think they are in fellowship with other believers.. There are numerous other books that can be mentioned that are passed on to the new converts in Amway that are not beneficial and can be harmful. But I don't want to belabor the point any further. It would be best to ask someone outside the organization to look at the book before reading it and practicing its philosophy.
Certainly God can make you succeed but this is not a general promise for everyone. How do I know this? Read the scriptures on the apostles. In the history of the Church, none of the great theologians and scholars ever taught techniques to success. They certainly did not use portions from other religious beliefs.
Proverbs 16:30 tells us those who pursue God to "get wisdom instead of gold." That's the wisdom in word of God not the world. Considering that the Bible teaches that to love the World and all the things in it makes one an enemy of God should have one pause. For the world and all its attractions are passing away.
Prov. 3:13-16 "Happy is the man who finds wisdom, and the man who gains understanding; For her proceeds are better than the profits of silver, and her gain than fine gold. She is more precious than rubies, and all the things you may desire cannot compare with her. Length of days is in her right hand, in her left hand riches and honor."
Great people are not measured by the their worth in money or their success in business. But for how they followed Christ; which more often than not means to give up their drive for success in business. There's enough warnings in the Scripture to hopefully give us a balance. Amway encourages many of the things the Bible cautions or warns against. One can become quite easy to fall into the trap of Riches = God's blessings. If one listens to the tapes they give out to attract new participants this is exactly the appeal to become an Amway distributor.
James 5:1-3: "Come now, you rich, weep and howl for your miseries that are coming upon you! Your riches are corrupted, and your garments are moth-eaten. Your gold and silver are corroded, and their corrosion will be a witness against you and will eat your flesh like fire. You have heaped up treasure in the last days...You have lived on the earth in pleasure and luxury; you have fattened your hearts as in a day of slaughter. " Hopefully you won't be running with this crowd.
Instead you should be siding with Jesus who said Matt 6:19-21: "Do not lay up for yourselves treasures on earth, where moth and rust destroy and where thieves break in and steal; "but lay up for yourselves treasures in heaven, where neither moth nor rust destroys and where thieves do not break in and steal "For where your treasure is, there your heart will be also."
Is there anything wrong with success or riches? No as long as you life does not revolve around getting them or holding onto them. Better to enter heaven poor than have to answer for all the time spent infatuated chasing success. For it is a pursuit that just may have kept you from doing eternal things for the kingdom and might even keep you from entering.
While the world does not know God they run after success to give them a purpose in life. Some goals are more noble than others. Christians who are involved in Amway or any Multi Level Marketing should be aware of the trappings and the allure of the world. They should be careful in the books they read and the motivation for their success; there needs to be caution and discernment for a true balance.