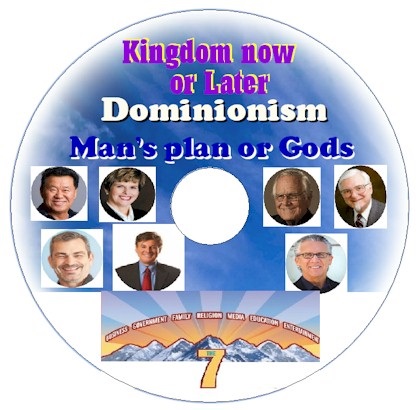 Kingdom Now or Later, man's plan or Gods?
What was once believed that Israel was the focus of the end times and there is a rapture and tribulation is being replaced by a newer end times view of prophesy. Kingdom now, Dominionism.
Specifically that the church is to disciple nations to rule over them before Christ returns. Christ is to return AFTER the Church establishes the kingdom of God on earth.
The type of spiritual warfare was to find the strongman over cities and nations and pull it down. This now intersects with a more practical approach by the new apostolic movement. We are to exercise dominion over every aspect of society by taking control of these political and cultural institutions to build a Christian civilization.
This new revelation, called the 7 mountain mandate began with Loren Cunningham founder of YWAM, along with Bill Bright who headed up campus crusade for Christ. Peter Wagner incorporated it in the new apostolic reform that he began and now it has gone mainstream.
Dominionism wants our nation along with all nations to be governed by the church. It is a distorted view using the example of Israel as a theocracy. Who are the people involved in this? How are they going make this happen?
USA includes shipping $13.00
Overseas $14.00