ETERNAL SECURITY / GOD'S ASSURANCE

Jesus states in Jn.10:27-30: "My sheep hear my voice, and I know them, and they follow me: And I give unto them eternal life; and they shall never perish, neither shall anyone pluck them out of my hand. My Father, which gave them me, is greater than all; and no man is able to pluck them out of my Father's hand. I and my Father are one.

You can break your communion with God but not your spiritual union. If one truly believes and follows, they are part of a living eternal organism called the body of Christ.

The believer lives under grace. This guarantees God's ability to bring to a conclusion what we cannot. We were not saved by our works, so we don't undo our salvation by works. One cannot keep themselves saved, since we didn't save ourselves in the first place, we remain saved by grace, by His power.

Salvation is a gift freely given apart from any human effort. It does not depend on our performance nor on a certain amount of obedience in having it be permanent in our life. If you brought someone to faith in Christ and they asked how long will I be saved for? You say as long as you obey. How long can I obey? who knows.

Your eternal security is not associated with your works but to Christ's work

It is not a reward for good behavior Jn.10:28 "I will give to the one who thirsts from the spring of the water of life without cost."

There are approximately 85 passages in the New Testament by both Jesus and Paul which attest to salvation by grace and that eternal life is imparted as a gift to all those who believe in Christ.

Salvation's checklist

One of the foremost ways Satan attacks Christians is by condemning them when they sin. He makes them question or doubt their salvation. Without the helmet of salvation on our minds are open to his doubts. We are to know what we believe so we cannot be persuaded into a lie.

How does one know that they are saved. First is they will become acutely aware of their sin. They will sense a struggle of doing what was once pleasurable and be repelled of it, they will no longer practice sin as a lifestyle. They will have a battle of the indwelling of sin with his new nature, he cries out who will deliver me from this body of death. They will have the power to say no to the sins that so easily trapped him, if he so chooses. They have the witness of the Spirit, the word is now understandable and He bears witness that it is the truth. They have the peace of God where before he was wrestling against him he now enjoys obeying Gods commands where before he detested them. Their attitude toward the world will change his affections will be redirected toward the things of God. They will love Christ and be looking forward to his return having the assurance of being in his kingdom. They will also love the brethren, enjoying fellowship with them. They will provoke others to love and service unto the Lord not things contrary. They have a love for the Word which sets them apart from the world that is contrary to the things of God Jn.17:14-19. They will experience answered prayers for God's will in his life and others Jn.14,15:7. He will have the ability to discern truth from error whereas before he had no guidelines1 Jn.2:27; Heb.5:13-14. They believe in the essential doctrines of the faith and are willing to defend them to some degree when they are challenged.

If someone leaves the lord and goes back into a lifestyle that is lived by heathens were they saved? The parable of the seed found in Mt.13 shows how it can germinate and lose its vitality being strangled by things in the world. No plant can be firm and produce fruit without a root system that is well grounded. Jesus says He has appointed us to produce fruit in various degrees, we will all produce fruit because we are a tree the Lord planted. Trees need nourishment, they need water (the word). As Jesus said in Jn.15 we must abide in the vine, apart from him we can do nothing. He then goes on to say those who do not abide are cast out into fire. There are a number of ways to look at this; one is that it is hell, another is fiery trial that will purge or chasten the believer back into obedience. Again if we go back and take the context He is speaking about abiding in His Word, which continually cleanses us, proving one is a true disciple.

Its either eternal security or eternal insecurity

Jn.10:28 "I give them eternal life, and they shall never perish, no one shall snatch them out of my hand."

Rom.6:23 "For the wages of sin is death; but the gift of God is eternal life through Jesus Christ our Lord.

Jn.3:18 "He that believeth on him is not condemned: but he that believeth not is condemned already, because he hath not believed in the name of the only begotten Son of God.

Jn.5:24 "He that hears my word, and believes on him that sent me, hath everlasting life, and shall not come into condemnation; but is passed from death unto life." One is made spiritually alive by having true living faith.

The believer has (present tense) eternal life, he does not have judgment of his destiny but his works, as1 Cor. 3:10-15 says all that he has done may be burned but He Himself will receive eternal life. Why? because it is a free gift!

The presence of sin is always with us 1 Jn.1:8 "If we say we have no sin, we deceive ourselves, and the truth is not in us. So it is continually there as the old nature. When someone is always walking in the flesh they are condemned because they are not enjoying the benefits of grace. This is why so many start to question their possessing salvation. 1 Jn.2:1 "I write to you that you may not sin and if anyone sins we have an advocate with the father." We sin when we act upon the nature that is always present. When we give over to its desires it brings forth death Jm.1:14-15. As believers we now have a new nature dwelling inside us next to the old. This death James speaks about is not spiritual death. If that were true every time we sin we need to be reborn. Paul clarifies this by saying in Gal.6:8 "For he who sows to the flesh will of the flesh reap corruption but he who sows to the Spirit will of the Spirit reap eternal life."

Although sin is always with us:

We have been saved from the penalty of sin by Christ's death on the cross. We are presently being saved from the power of sin that tries to dominate us. We are no longer slaves but set free. We will finally be saved from the presence of sin when we are transformed to our eternal incorruptible bodies.

The meaning of eternal life means a present possession that continues throughout eternity. It is not eternal life for a day, a month, and a year. It means what it says, it is eternal life from God, who is also eternal. If one entertains the idea that eternal life has a limit then God will also cease. Because the same word describes both God's nature and the believers standing in Christ. One cannot undo their spiritual birth anymore than they can reverse their physical birth. (2 Cor.5:17, Gal.6:15, Eph.2:10)

God is not like men who who give only to take back; Titus 1:2: "In hope of eternal life which God who cannot lie, promised before time began." Those who believe they can lose their salvation are usually those who felt they did something to gain it, that they have to keep it by their own deeds. To claim you lost your salvation by not doing something often means they received it by doing something. If works are interjected for salvation then there is no eternal security because it is always in the future tense. If salvation is dependent on what we do to keep it, then we have no assurance, because we all fall short in many things. Eternal life is a gift from God by His grace, not a command we keep.

We should have more confidence and faith than the Old Testament saints (Heb.11) because we have more revelation in the word to be assured of.

Rom.5:20-21..."But where sin increased grace abounded all the more."

There is always more grace than there is sin, no matter what is done God is willing to cover our faults and sins. He doesn't give up on anyone.

Rom.4:8 "Blessed is the man to whom the Lord does not impute sin." In our forgiven position God does not charge us with what we owe. He does not count our sins against us otherwise no one would be able to stand before him.

Rom.8:30 tells us that who God justifies he will also glorify. (Rom.5:15-16 tells us justification is the free gift.) This is the future promise that he who began a good work in you will complete it Phil.1:6. In Heb12:2 it States "Jesus is the author and finisher of our faith. It's not dependent on us as much as it is on him. We cooperate with the work he is doing in us and through us.

Rom.8:1-9 this whole chapter is on the believers new relationship in the present and future with God.

Vs.1 there is now no condemnation for those who are in Christ Jesus. vs.2-8 we are delivered from the law of sin and death by the death of Jesus fulfilling the spiritual obligation of the law.(Heb.7:18 tells us the Old Testament covenant was annulled 8:13 the 1st covenant he has made obsolete) vs.9-13 we now have the presence of Gods nature dwelling inside us that helps us live the Christian life. vs.14-17 the believer is now an heir of God. vs.28-29 God has a divine purpose for each believer as he conforms each to his son. vs.30-33 he has a united purpose for all and will bring to completion, no exceptions. There is nothing that can separate us from the love of God.

Eph.1:13 we are sealed with the Holy Spirit of promise (gr. aurobon- means a down payment like an engagement ring) God does not break his promises we are engaged as the bride soon to be married. He has asked for our hand in the marriage. If we accept we are in an unconditional covenant relationship, meaning it is not dependent on us but on him.

2 Cor.1:22 "Set his seal of ownership on us and put his spirit in our hearts as a deposit guaranteeing what is to come. There are no refunds on his deposit.

Rom.8:9...If anyone does not have the spirit of Christ he does not belong to him.

1Cor. 3:16 "do you not know that you are the temple of God and that the Spirit of God dwells in you." The spirit is his assurance to us we are owned by him.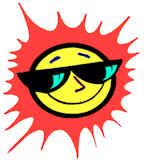 Our futures so bright we need sunglasses at night!

Assurance scriptures

1 Jn.5:10: He that believeth on the Son of God hath the witness in himself: he that believeth not God hath made him a liar; because he believeth not the record that God gave of his Son. V.11: And this is the record, that God hath given to us eternal life, and this life is in his Son. 12: He that hath the Son hath life; and he that hath not the Son of God hath not life. 13: These things have I written unto you that believe on the name of the Son of God; that you may know that you have eternal life, and that you may believe on the name of the Son of God." When we are weak in faith we will struggle with the promises.

Many say I don't feel secure-but you are, we can't go on feelings. I haven't done enough to deserve salvation- but he's given it as a free gift, so you don't have to do anymore than when you first received him. I don't feel I'm living up to his expectations- repent and go back to your first love. Anything we have to say that reflects our falling short, God has a solution for. The root of the problem is that we don't really know our position in Christ and live by our condition.

So assured is our eternal life that it says we are already seated in heavenly places. (positionally)

1 Pt. 1:3-5 "Who according to His abundant mercy has begotten us again to a living hope through the resurrection of Jesus Christ from the dead, to an inheritance incorruptible and undefiled and that does not fade away, reserved in heaven for you, who are kept by the power of God through faith for salvation ready to be revealed in the last time."

This concept is further expanded by statements of being kept from falling or preserved until the day of Christ.

One cannot undo their spiritual birth anymore than they can undo their physical birth. Eph.4:30 says we are sealed until the day of redemption. The indwelling ministry of the Spirit is forever our eternal life is dependent upon him. Through the baptizing work of the Holy Spirit we are vitally joined to Christ and become part of his body. We are now citizens of heaven, a pilgrim to this world, a foreign resident just passing through. (Luke 10:20; 2 Cor. 5:20; Eph. 2:19; Phil.3:20; Heb. 12:19-20)

He is the beginner and finisher of our faith

Heb.5:9: "He is the author of eternal salvation to ALL WHO OBEY HIM."

The first act of obedience is repentance, going from unbelief to belief, exercising faith in the Gospel. If you repent and believe this puts you in the new covenant, faith is obedience. Then one follows turning over their life daily to the Lord. As Paul said he dies daily, picking up the cross of suffering denying self and having Christ live his life through you.

Col. 1:20-23: "And you, who once were alienated and enemies in your mind by wicked works, yet now He has reconciled in the body of His flesh through death, to present you holy, and blameless, and above reproach in His sight-- if indeed you continue in the faith, grounded and steadfast, and are not moved away from the hope of the gospel which you heard" Faith equals faithfulness, it is persevering. We must hold to the faith not be passive. Then he will " present you holy, and blameless, and above reproach in His sight. It is not how you start the race but if you finish it.

Heb. 3:5-6 :"And Moses indeed was faithful in all His house as a servant, for a testimony of those things which would be spoken afterward, but Christ as a Son over His own house, whose house we are if we hold fast the confidence and the rejoicing of the hope firm to the end

."

We show we are Saints by our persever

ing; faithfulness.

Proverbs says if a righteous man falls 7 times he will get up 7 times. Our part is to continue and God will be there for us, He will not forsake us.

There is always grace to those who are willing. 2 Tim 2:11-13 "This is a faithful saying: for if we died with Him, we shall also live with Him. If we endure, we shall also reign with Him. If we deny Him, he also will deny us. If we are faithless, he remains faithful; he cannot deny Himself."
God will give his Holy Spirit to those who ask, He will always go further with us than we can with Him. Our co-operation is needed to have a victorious life of faith.

God is faithful to us.

1 Thess. 5:24:"He who calls you is faithful who will also do it."

Jude 24 "Now to him who is able to keep you from stumbling and to present you faultless before the presence of his glory with exceeding joy."

This is why Paul starts off his letters with grace and peace from God our Father and the Lord Jesus. We depend on him to do the work in us by faith.

Phil.1:6: "Being confident of this very thing, that he who began a good work in you will complete it until the day of Christ Jesus." vs.12..."Work out your own salvation in fear and trembling for it is God who works in you both to will and to do for his good pleasure." Paul tells the church to bring to a completion what they already possess, their salvation, we cooperate for doing Gods will and having him glorified and our maturity.

While we are to continually confess our sins, it is not to obtain or keep salvation but for cleansing. Our fellowship with God and his people can be hindered and severed for a time but our union with Christ can never be taken away.

The same one who saves us is the one who keeps us. If maintaining our faith for salvation were dependent on us alone then none of us could be saved.

I Jn.5:1 gives us the promise "Whoever believes that Jesus is the Christ is born of God, and everyone who loves him who begot also loves him who is begotten of him"vs.11 "and this is the testimony: that God has given us eternal life, and this life is in his Son...vs.13 these things I have written to you who believe in the name of the Son of God, that you may know you have eternal life, and that you may continue in the name of the Son of God."

The only way one can know this is to...
CONFUSING COMMANDS WITH SALVATION

The Bible gives numerous commands- it tells us to pray always, does this mean if we fail to do this we lose our salvation. We are told to love the Lord our God with all of our heart, mind, soul and strength, no one is able to do this all the time. Does this mean we lose our salvation? Of course not.

If we look at the examples such as Peter who denied the Lord three times and disobeyed many times afterwards. If salvation depended solely upon his obedience he never would have made it and neither would we. What of Lot? He must have lost his salvation with his compromising and what he did to his daughters. 2 Pt.2:6-9 tells us Lot died a saved man. What about Samson? If anyone should lose their salvation for compromising and sin it would be him. Yet, Heb.11:32 tells us he died a saved man. What of Moses who disobeyed God once and was not allowed into the Promised Land, did he lose his salvation? No, he was physically punished, not spiritually punished. He appears with Elijah on the Mt. of Transfiguration discussing with Jesus His coming sacrifice, something he would not be able to do if he lost his salvation. So we must not assume that every time someone is judged in the body they are also judged spiritually.

What of David and his sins of adultery and murder? Surely the Bible teaches that no adulterer or murderer will enter the kingdom of heaven, but it is talking about one who continues to practice these things as a lifestyle without repentance. These acts did not lead to a loss of salvation because David repented (Ps.51:8-12) and he was cleared of all his sins. However he did reap problems as the sword never left his household. The book of Hebrews has all these individuals and others mentioned. The Bible never hides the faults nor shines the halos over its people. It tells both sides; the good, and the bad and the ugly. They are included in the Hebrews hall of faith and they received a good testimony inheriting the promise of eternal life with us. When we come to the New Testament. All the warnings are in reference to losing ones physical life and losing our rewards.

We have the example of Annanias and Sapphira. Just as in the Old Testament they were judged in the body losing their physical life. The Bible is silent on whether or not they forfeited their spiritual life. We assume they were saved being part of the church. Lying to the Holy Spirit should not be confused as with the blasphemy of the Spirit.

Last example and not the least is Judas Iscariot. It is assumed he was saved because he traveled with the other disciples but we know he was not. Jn.13:16-21 Jesus says he was not clean, in other words he heard the word but really did not believe it or act upon it. He did not have living faith. Jn.17:12 tells us no one will be lost, but the son of perdition, who is Judas. He fulfilled the position by the purposes of his own heart. At the last supper we find Judas did not partake of the wine (Christ's blood ) but only the bread (Jesus' flesh) Jn.13:26-30. Mt.27:3-5. Later we find Judas is for his betrayal but it was not a godly sorrow that would lead to repentance or salvation. Acts 1:24-25 states that he fell from his potential position of apostleship not from salvation since he never possessed it. He never followed by his heart but only by the outward looking for a redeemer that would be political and overthrow Rome. He of course was trapped by his own coveting as he longed for money instead of truth.

There are also numerous commands that we are to keep not for salvation but for discipleship. There are also commands that apply to both, in Mk.8:34 Jesus states, "If any man would come after me, let him deny himself take up his cross and follow me." This is a requirement for both salvation and discipleship as Paul admonishes in Rom. 6:1-11 "Reckon yourself dead to sin but alive to God." Also in Mt.10:32-33 "To confess me before men and I will confess you before my father in heaven." Is applied to our lifestyle if we are ashamed of him then he is not really alive working in our lives. This is not to be confused with a salvation confession in Rom.10:8-11.

Sometimes people rely on their feelings. We may feel something at the time of our new birth, we may not. As time goes on many do not feel saved, they have sinned feel ashamed and so they believe they need to ask Jesus again and again to save them. And they continue to come forward because they believe they have no assurance of salvation. This is because they do not understand what faith is and how it is placed in trusting Christ's work on the cross. Salvation is by God's grace in Christ's work and received through faith.

God saves a person based on their faith in response to the gospel message, we are justified by God (Rom. 3:24, 28), we are declared non guilty, clothed in Christ's righteousness and now accepted as His children. We are able to stand without guilt before His law that condemns all. Paul makes it clear that once God justifies the person, he cannot be condemned or lose his salvation (Rom. 8:1, 32, 33). However our salvation is not completed until we are glorified in God's presence. And this occurs at the end of the believer's life on earth or by the rapture/resurrection, whichever comes first (1 John 3:2; John 17:24; Rev. 21:3, 4). This is why we are admonished to persevere, there must be faithfulness in our life; which is an outworking of living faith. If someone does not make it to the end in faith were they saved? This why Heb. 4:1-3 says "Therefore, since a promise remains of entering His rest, let us fear lest any of you seem to have come short of it. For indeed the gospel was preached to us as well as to them; but the word, which they heard did not profit them, not being mixed with faith in those who heard it. For we who have believed do enter that rest, as He has said: "So I swore in My wrath, they shall not enter My rest," although the works were finished from the foundation of the world.

With all the assurance Scripture we do not neglect the part we are to do either. We are admonished to persevere, there must be faithfulness in our life, which is an outworking of living faith. If someone does not make it to the end in faith were they saved? This why Paul compares this life to a race. 1 Cor. 9:24-27: "Do you not know that those who run in a race all run, but one receives the prize? Run in such a way that you may obtain it. And everyone who competes for the prize is temperate in all things. Now they do it to obtain a perishable crown, but we for an imperishable crown. Therefore I run thus: not with uncertainty. Thus I fight: not as one who beats the air. But I discipline my body and bring it into subjection, lest, when I have preached to others, I myself should become disqualified." We must reach the end still in the faith not dropping out along the way.

Paul twice mentions a warning about running in vain Gal. 2:2: "And I went up by revelation, and communicated to them that gospel which I preach among the Gentiles, but privately to those who were of reputation, lest by any means I might run, or had run, in vain."

Phil. 2:16: "holding fast the word of life, so that I may rejoice in the day of Christ that I have not run in vain or labored in vain."

2 Tim. 4:6-7: "For I am already being poured out as a drink offering, and the time of my departure is at hand. I have fought the good fight, I have finished the race, I have kept the faith."

The writers of Hebrews adds Heb. 12:1-2: "and let us run with endurance the race that is set before us, looking unto Jesus, the author and finisher of our faith and then explains Jesus fulfilling his mission by going to the cross.

To be in the faith means one will be faithful as the fruit of their trust. When one falls in sin they get right back up ask for cleansing. While we can wrestle over what the demarcation line is for losing salvation, we do know Scripture makes it clear the only unforgivable sin is the Blasphemy of the Spirit. 2 Pet. 2:20 says, "For if, after they have escaped the pollution's of the world through the knowledge of the Lord and Savior Jesus Christ, they are again entangled in them and overcome, the latter end is worse for them than the beginning." If one is questioning where they stand, they need only to repent and be renewed. 2 Tim. 2:21 "Therefore if anyone cleanses himself from the latter, he will be a vessel for honor, sanctified and useful for the Master, prepared for every good work." Then, "These things have I written unto you that believe on the name of the Son of God; that you may know that you have eternal life," will be your assurance.