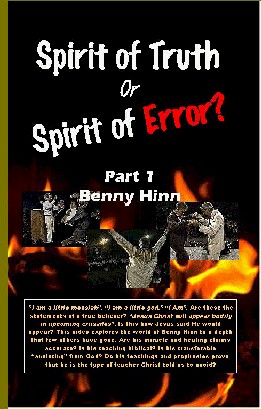 Have you ever wondered why there are people who say Hinn's teachings are unbiblical? Ever have a problem with a friend or family member understanding what Benny Hinn teaches is wrong? This video will help solve these obstacles.
This video contains a wealth of old and new video quotes with biblically based commentary. The facts presented on this video are documented and undeniable. We believe you will find this to be a valuable resource in learning to discern whether these teachers are teaching in the SPIRIT OF TRUTH OR SPIRIT OF ERROR! This video has a powerful impact to deliver someone from the falsehood that is being promoted in Hinn's teaching.
Statements like "I am a little messiah." "I am a little god." "I Am." "Jesus Christ will appear bodily in upcoming crusades" This video explores the world of Benny Hinn to a depth that few others have gone. Are his miracle and healing claims accurate? Is his teaching biblical? Is his transferable "anointing" from God? Do his teachings and prophesies prove that he is the type of teacher Christ told us to avoid? This video features an informal, impromptu discussion of the teachings and practices of Benny Hinn and others by three apologists who have been studying Hinn for years. Jacob Prasch of Moriel Ministries, Mike Oppenheimer of Let Us Reason Ministries and Sandy Simpson of Deception In The Church. Apologists share their concerns about the current level of discernment among Christians with regard to teachers like Benny Hinn. The video takes an in depth look at Hinn's ministry for the last 10 years. Biblically refuting the doctrines and practices that have made Hinn's ministry famous.
This DVD is 1 hour and 40 minutes long! Cost of video is now $21.50 this includes shipping and handling (in US).
or by through pay pal
USA (US only) $21.50
---
foreign $24.00 includes shipping