The Last Days, Islam & Israel - Conflict of the Ages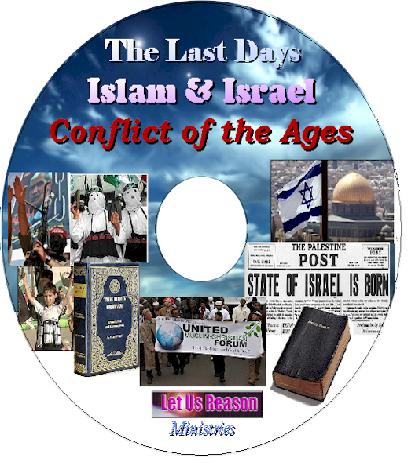 Are we in the Last Days? What are some of the events we are to watch for before Christ comes for his church and the world enters the Tribulation. This video contains numerous video clips accompanied with a power point presentation that looks at changes in the weather, events that are shaping politics and religion. The increase of earthquakes, worldwide disasters, conflicts, signs from heaven. The apostasy in the church on man being as god (with video and audio clips).
The church and America's reverse policy on Israel. Chrislam, the blending of the two religions in conflict for an unholy unity.
These issues are covered as it moves into the main topic where we concentrate on the middle east and the prize-Jerusalem. What is the Arab Spring really about? As we see the nations leaders being removed what is about to take place.
Islam's goal for a new Caliphate. The Muslim brotherhood, Iran's video release of The Coming is Near on the Mahdi. Israel's defense for the land. The elimination of Christians by Islam throughout the Muslim countries.
There is a darkness coming that is far worse than the middle ages. Be informed on the current events taking place throughout the world that affect countries and freedom.
1 hour and 30 minutes long
US only (includes shipping) $16.50
______________________________________
Overseas $18.50